RIDGID Gen5 X Cordless Combo Kit Review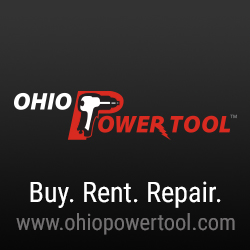 RIDGID Gen5 X Tool Kit Review
In a few weeks, RIDGID will unveil their latest and greatest in 18v cordless brushed motor technology called Gen5x. We have had the opportunity to test out these new cordless power tools for about a month now. We are certainly impressed with these new tools.  If there wasn't a certain application I was using these for, I did some standard tests to evaluate the tool's performance.  Come on, let's take a closer look.
What is Gen5x technology?
There is not much information out there regarding the new Gen5x technology. So here is what we do know!
Gen5x stands for 5th generation technology. This is the upgrade from RIDGID's 4X technology which was their 4X or 4th generation tools. The secret with the new Gen5X's is its magnet motor, which has been designed to provide the more power, longer run-time, and better overall performance. The tools are powered by the HYPER 4.0 Lithium Ion battery that now have four times longer run time compared to a standard Lithium-Ion battery.
RIDGID Gen5x 5pc Tool Kit Components
Hammer Drill – Model R8611503
Impact Driver – Model R86035
Circular Saw – Model R8652
Reciprocating Saw – Model R8642
LED Flashlight – Model R8693
[2] 18-volt HYPER Lithium Batteries – Model R840087
18v Charger – Model R840095
Auxiliary handle for Hammer Drill
2 bits for hammer drill and impact driver
Circular Saw Blade and Reciprocating Saw Blade
2 Belt Hooks
Nylon Carrying Bag
Blade Wrench for Circular Saw
Operators Manuals
Kit Component Break Down
Lets take a closer look at each individual component within the new RIDGID Gen5x Combo Kit
RIDGID Gen5x Hammer Drill/Driver – Model R8611503
The Gen5x Motor Technology produces 780 in.-lbs of torque for demanding drilling and driving applications.  That is roughly 215 in-lbs. more than the previous X4 model.
Another standout feature are the unobstructed chuck lights that shine directly out of the chuck virtually eliminating the shadows around the bit. RIDGID has also slightly changed the teeth design on the chuck to better prevent bit slippage.  A design change that goes unnoticed.
Lastly, there are now over 100 clutch settings on the new Gen5x Hammer Drill. What does that mean to you? Probably the same answer as me… I don't know !!!    I'm guessing with over 100 clutch settings, you can really get to your desired torque.   Listed below are the tool specifications:
Specifications:
Torque: 780 inch-pounds
No Load Speed: 0-450 / 0-1600 RPM
Chuck: 1/2″ Carbide Locking Jaw
Beats: 0-7200 / 0-25,600 BPM
Usage:
The other day while hanging a drop ceiling at a customer's house I wanted to give the hammer drill a run for its money. Drop ceiling kits now a days come with this cool bit called the eye lag screw adapter. This adapter allows you to put the lag bolts in by drill vs by hand, thank you!   Securing the lags was as easy as pie.
The RIDGID Gen5x Hammer Drill drove these lags in with ease.  It was worth it!
RIDGID Gen5x Impact Driver – Model R86035
The Gen5X Motor Technology provides driving force for various fasteners easily with an open frame motor that produces 2,000 in.-lbs. of high end torque.  It has an upgraded  3 speed settings switch, which provides adjustable power and speed.
My recommendation for using the speed setting switch would be:
Speed 1: 0-1000 RPM would be for delicate wood and small screws.
Speed 2 would be for your large screws such as deck screws. This load speed is 0-2000 RPMs.
Speed 3 is the beast mode! At a RPM speed of 0-2750 RPMs, this is for driving your lag bolts into anything… Basically like a hot knife into cheese!
The LED lights have been moved up to the chuck, like the hammer drill, instead of the previous model where the light shined up from the base. Both the Gen5x and X4 have the same one handed bit insert chuck, a real nice feature.   Listed below are the tool specifications.
Specifications:
Motor Speed: 3 Speed
No Load Speed: 0-1000 / 0-2000 / 0-2750 RPM
Torque: 2000 inch-pound
Impacts: 0- 3200 IPM
Chuck: 1/4″ HEX
Usage:
I have been using the Impact Driver for multiple applications over the course of this review. On speed setting ONE, I have used it for installing cabinet hardware and removal of door handle screws. Using the low setting for precision applications will prevent over torquing the screws and shearing them off.
Using #8 1-5/8″ drywall screws to hang drywall on setting TWO was just enough torque to get the job done efficiently and on time.
I'll refer to setting THREE as "Beast Mode" again. This setting packs the greatest punch by driving lag bolts with ease. I only drove a handful of 3″ lags into some PT, playing around. I plan to put it through some more lag tests in the future.
RIDGID Gen5 X Circular Saw – Model R8652
The Gen5 X Motor Technology powers through cuts, every time!  It has an open frame motor, for corded like performance. The 7-1/4" blade size, upgraded from the previous 6-1/2″,  gives you maximum cutting depth and elevating this saw into the Pro contractor arena!
One thing that is very handy to anyone from general contractors to DIYer's is the positive detents this saw comes with. The Gen5 X Circular saw comes with positive detents at 0°,15°,22.5°,45°,and 56°.
What is a detent?  Detents are predetermined depth positions to facilitate the rapid positioning of the saw blade.  Another nice feature are the over-sized adjustment levers, making it a breeze to use with gloves on.
Listed below are the tool specifications.
Specifications:
Blade Size: 7-1/4″
No Load Speed: 3700 RPM
Max Cutting Depth at 0° is 2-7/16″
Max Cutting Depth at 45° is 1-27/32″
Usage:

The RIDGID Circular saw comes standard with 24 carbide tooth blade which is ideal for framing applications. While installing a solid core door I needed to make one modification to the bottom of the door. Instead of the hassle of finding a long enough extension cord I decided to go cordless. After switching out the blade to a Diablo 60-tooth Fine Finish blade and setting up a straight edge, this cut like butter. Smooth cut, with power, and precision.  Love it!
RIDGID Gen5 X Reciprocating Saw – Model R8642
The Gen5 X Motor Technology delivers optimal cutting speed with 1-1/8" stoke length at 3,000 strokes per minute. While the strokes per minute decreased from the 4 X (3600 SPM) the stroke length is increased from 3/4″.
Due to the increase in stroke length and the decrease of the load speed, vibration is reduced.  That's a win for us!
The ON/OFF Orbital Action switch is now at a 90° lock in the left and right instead of the front to back lock in previous model.
What is Orbital Action? Orbital Action allows the blade moves in a circular motion as it moves in and out of the tool. This allows for faster cuts in softer materials. The straight stroke, move in and out in a straight motion, is used for heavier material like steel. The forward grip and the rear handle are designed with a nice rubber over mold and have a great ergonomic feel to it.  Listed below are the tool specifications.
Specifications:
No Load Speed: 0 – 3000 SPM
Stroke Length: 1-1/8″
On/Off Switch for Orbital Action
Less vibration
Usage:
One of the most common tests I see from people putting the reciprocating saw through is the nail embedded cuts. I can't say I have ever loaded a bunch of nails into wood just to then cut them, so I wanted to try it. I put some 3-1/2″ framing nails into a piece of PT 2×4 and had at it. With the 3000 SPMs and the stroke length of 1-1/8″ I was able to smoke through these cuts. This was a fun test. I also noticed the decreased vibration due the Gen5 X technology.
RIDGID Gen5 X LED Flashlight – Model R8693
The lifetime LED bulb means there is no need to change the bulb for the life of the flashlight.  There are some nice features on this flashlight, but a few that will be missed from the X4.   One of the nice changes is the fact that RIDGID built this light on the same style handle as the Impact Driver and the Hammer Drill.   Same handle for all three will create user memory and there will not be anything complicated about using this light.
There is a nice rotating head on this light to allow various angles in tough locations. One down side is you can not widen the beam as in past models.  RIDGID claims that with the 4.0 Ah HYPER Lithium-Ion battery you have over 40 hours of extended run-time!
Usage:
The other day while fixing my dishwasher, my 4 year old son came by and stole my iPhone which I was using as a flashlight.  I had a back up, and grabbed the Gen5 X LED flashlight.
After realizing the issue on the dishwasher, researching parts, loading the kids into the car, getting the parts and coming home, I deliberately left the flashlight on to see if there was any change in illumination. There was none. Now RIDGID claims 40 hours on a fully charged 4.0 Ah battery, my ordeal was only 1-2 hours max. I think I am going to try the 40 hour challenge next!
RIDGID Gen5 X HYPER Lithium Batteries (2) – Model R840087 and Charger Model R840095
The 4.0 Ah batteries provide up to 50% more work output, up to 50% longer life span, will operate down to -4°F and up to 120°F. RIDGID instructs you for colder environments, that a battery and use it for 1 minute on a light duty application to warm it up. Once warm, you can begin normal use. The 4.o Ah batteries have a fuel gauge is extremely useful:
4 "bars" battery gauge, indicates: 75-100%
3 "bars" indicate 50-75%
2 "bars" means 25-50%
1 "bar" is 0-25%
flashing lights mean a depleted battery.
Charging time
The Gen5X charger will charge a 2.0Ah pack in 25 min and 50 min for the included 4.0Ah packs and operates on normal household voltage, 120V.
2.0Ah pack charges in 25 min
4.0Ah pack charges in 50 min
When green LED light is steady, charge is complete and you are ready for use.
Overall Impression:
"WOW" is my overall impression when it comes to the RIDGID Gen5 X 5pc. Combo Kit.
This kit certainly "drives" RIDGID up to the "Cadillac" category, in brushed motors. There is not going to be a kit on the market with a brushed motor that will be able to match this one.  If you are looking for better, then you need to look at brushless motor kits, but let me warm you, the cost is the biggest difference….
Another major winner in my book to me is these tools are the full list of features that are backed by the industry's best warranty, the RIDGID Lifetime Service Agreement; free Batteries, free Parts, free Service and For Life. The Gen5 X kit is the exact same price as the previous model 4X. You are getting the latest and greatest in brushed motor technology for $499 exclusively at the Home Depot.
RIDGID Gen5 X Video Review
The RIDIGD Gen5x Combo kit can be purchased for $399.00 exclusively at the Home Depot by clicking on this link: RIDGID Gen5x Combo Kit