DELTA® Launches New Tools
DELTA® Bolsters the Woodshop With Launch of New Family of Products
JACKSON, Tenn. (June 16, 2010) – DELTA Machinery is proud to introduce six innovative products to the DELTA family. Each product leverages the brand's history of designing and engineering some of the most precise woodworking equipment on the market to deliver quality, ease of use and outstanding accuracy.
The new machines include an 18-inch laser drill press (18-900L), a 13-inch portable thickness planer (22-590), a low voltage UNISAW (36-L552LVC), a 20-inch variable scroll saw (40-690) and a 1½ HP dust collector (50-786). Additionally, DELTA is releasing a line of four full-kerf melamine premium woodworking saw blades.
"This new family of products reflects the innovation, tradition and heritage of the DELTA brand," said Bill Harman, product manager for DELTA Machinery. "We were able to leverage years of field research and our rich legacy of precision to provide woodworkers the type of fine products they've come to expect from the DELTA brand."
18-Inch Laser Drill Press (18-900L)
This drill press establishes a total package of features to address woodworkers' needs for ease of use, accuracy and capacity. Elements include a patent-pending Auto-Tensioning Belt Drive System, a full 6-inch quill stroke and DELTA's proven oversized woodworker's table.
The revolutionary belt drive system gives the user the ability to easily change the speed of the machine. Accuracy is achieved with micro-adjustable depth stops and an independent depth scale, allowing the user to zero the scale and set up for repetitive drilling in a quick and easy manner.
A fully adjustable TWINLASER® projects a bright red crosshair on the work surface that can be easily fine-tuned and indicates a center point of the bit regardless of table position or thickness of material.
The new DELTA 18-900L 18-inch Laser Drill Press is backed by a five-year warranty and is available now at specialty woodworking dealers for $829.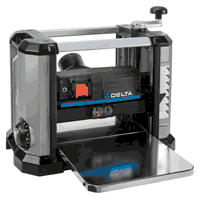 13-Inch Portable Thickness Planer (22-590)
A new premium planer delivers precision cut quality, ease of use and excellent accuracy via a patent-pending Infinite Micro-Adjust Depth Stop that allows woodworkers to select and lock any depth dimension from ¼ inch to 1¼ inch.
A newly designed three-knife cutter head utilizes enhanced geometry to create a more aggressive angle at wood contact than previous cutter heads, delivering an ultra smooth finish that requires minimal finish sanding.
The longest infeed and outfeed tables on the market are complemented with a best-in-class material capacity area that is 6 inches high by 13 inches wide. In addition, a full-width material removal gauge allows woodworkers to take advantage of the entire width of the knives.
The new DELTA 13-inch Portable Thickness Planer is backed by a five-year warranty and will be available at specialty woodworking dealers in July 2010 for a suggested retail price of $529.
UNISAW (model 36-L552LVC)
A new model configuration delivers the durability and power of a three-phase Baldor motor with low voltage (24V) at the switch. The new low voltage control UNISAW meets the needs of industrial and institutional customers that prefer the LVC feature and is otherwise identical to the original UNISAW relaunched in 2009, including a unique one-piece cast-iron trunnion design, a bevel gauge centered between dual front cranks, a rise-and-fall two-position riving knife, a modular tool-free guarding system and a fully integrated dust collection system. The new 36-L552LVC DELTA UNISAW is backed by a five-year warranty and is available now at specialty woodworking dealers for $3,799.
20-Inch Variable Scroll Saw (40-690)
Returning to its heritage of scroll saw woodworking, DELTA ensures a measure of precision with a dual parallel-link arm design that keeps the blade perpendicular to the table, reducing vibration and noise for exceptional accuracy.
The electronic variable speed can be adjusted from 400 to 1,750 strokes per minute (SPM) to provide configurations for a wide array of cutting applications. Also, woodworkers now have quick and easy access to the on/off switch, speed control and blade-tensioning lever with upfront controls.
The new DELTA 20-inch Variable Speed Scroll Saw with light and stand is backed by a five-year warranty and is available now at specialty woodworking dealers for a suggested retail price of $599.

1½ HP Dust Collector (50-786)
With a maximum air velocity of 1,200 cubic feet per minute (CFM), the 50-786 dust collector boasts best-in-class performance that minimizes the detrimental effects of airborne contaminants that woodworking naturally produces.
A new one-micron filter bag complements the machine's power with 97 percent filtration and containment of fine dust particles, maximizing airflow for a clean shop environment. The unit also features a much sturdier sheet metal frame design compared to laundry cart designs with swivel casters and a convenient pull handle for maneuverability between stations or for storing out of the way.
The new 50-786 is backed by a five-year warranty and will be available in August 2010 at specialty woodworking dealers for a suggested retail price of $429.
source: Press Release